Before you take another step inside social media, ask yourself the following:
"What is my purpose here?"
Is it to…
Inspire people to take action?
Grow a community?
Become recognised as a valuable resource?
Educate and entertain?
Increase awareness about a certain cause?
Provide an honest and transparent look at your own life?
Notice how none of these purposes has to do with promoting your latest blog post or increasing coaching sign ups. This is about amplifying value.
That's why it would be a mistake to go into social media marketing with the mindset that you're there to sell (even if the end goal is to turn followers into clients). That's not why people flock to social media. That's also why you won't see them respond positively to superficial calls to sign up for your discovery session or read your ebook.
People spend hours on social media every day in order to connect with others — through Facebook communities, through the sharing of memes, through comment threads on posts they relate to.
That's why you need to give them content they can genuinely connect to. And what better way to do that than by storytelling?
9 ways to use social media storytelling
Storytelling is a big part of who we are as humans and it's a skill we should leverage in business, too. We share stories to:
Entertain.
Teach valuable lessons.
Warn of danger and help others learn from our mistakes.
Recount important milestones.
Pass down the stories of heroes.
But not every story we tell in business needs to be an epic tale.
Think about some of the earliest forms of storytelling found on cave walls. Even though our ancestors didn't have words to write down their stories, they were able to do so with pictures. Compare that to social media users who publish 15-second videos, 280-character tweets and emoji filled messages, and you'll see that our capacity to tell short but impactful stories hasn't changed all that much.
Here are some ways you can use social media storytelling and grow your connection with other users and followers:
Facebook
Trick #1: Use Life Events
Facebook has a feature called "Life Events" that business owners can use to tell the chronological story of their personal career or the history of their company.
Thea Jolly is a perfectionism coach, so it should come as no surprise that she's gone above and beyond in filling in this section: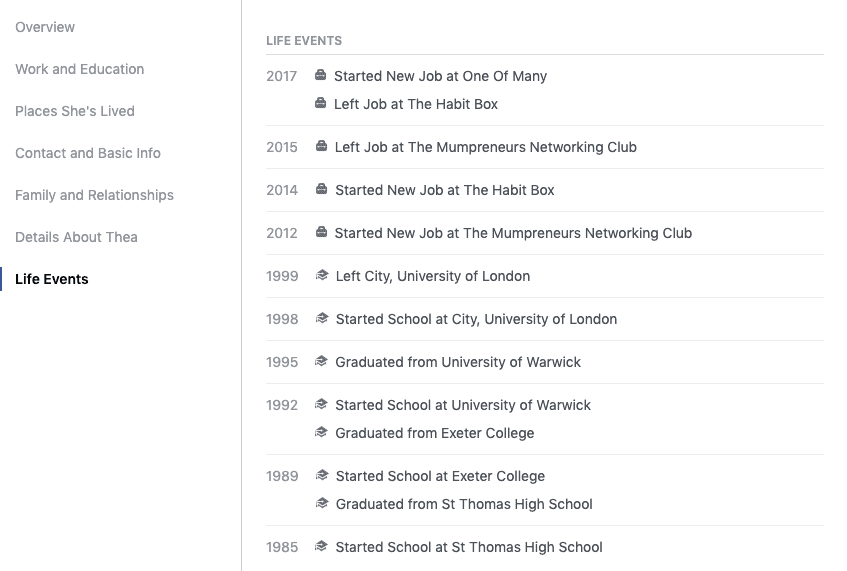 If where you've come from is integral to what you do today, utilise this tool and let people see the path you've taken.
Trick #2: Fill in the About page
The About page on your website is an essential storytelling tool for your business. If prospective clients first encounter you on Facebook, give them a taste of what they'll learn there by creating a miniature About page.
You'll see a great example of this on the page for The Run Beyond Project: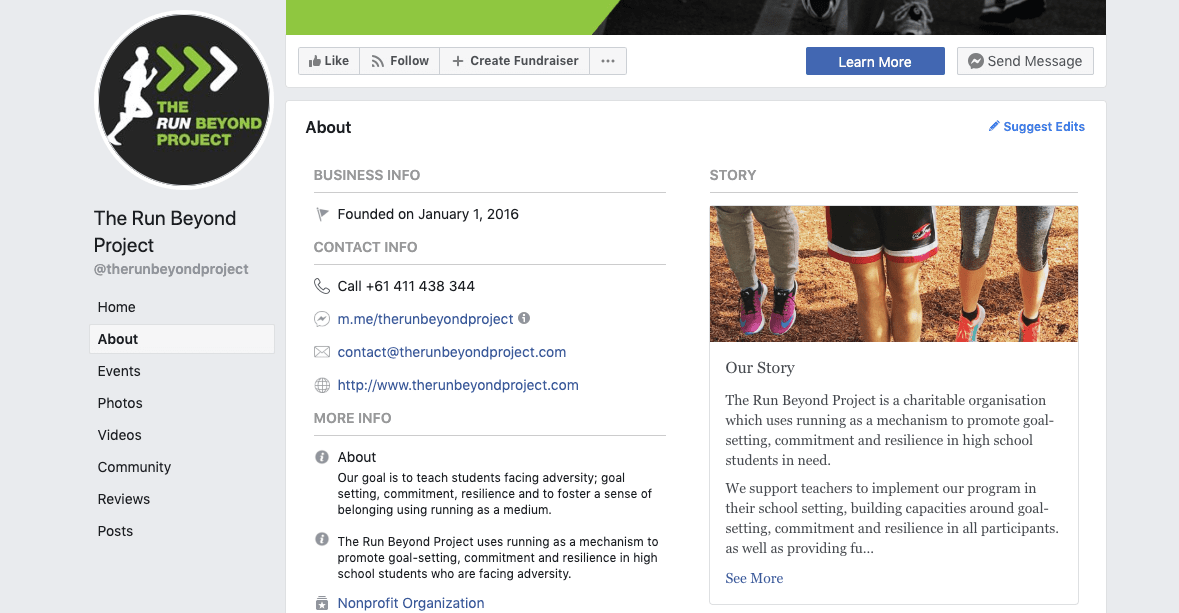 Not only has this organisation filled in its goals and its methods, but it's included a brief introduction to "Our Story".
Trick #3: Encourage clients to leave reviews
There's a misconception that online reviews only benefit larger businesses or those in the business of selling products. But reviews are nothing more than testimonials with a star rating.
You're leveraging your clients' stories on your website, right? So, why not do the same on your Facebook page?
Kath Clarke has been successful with this: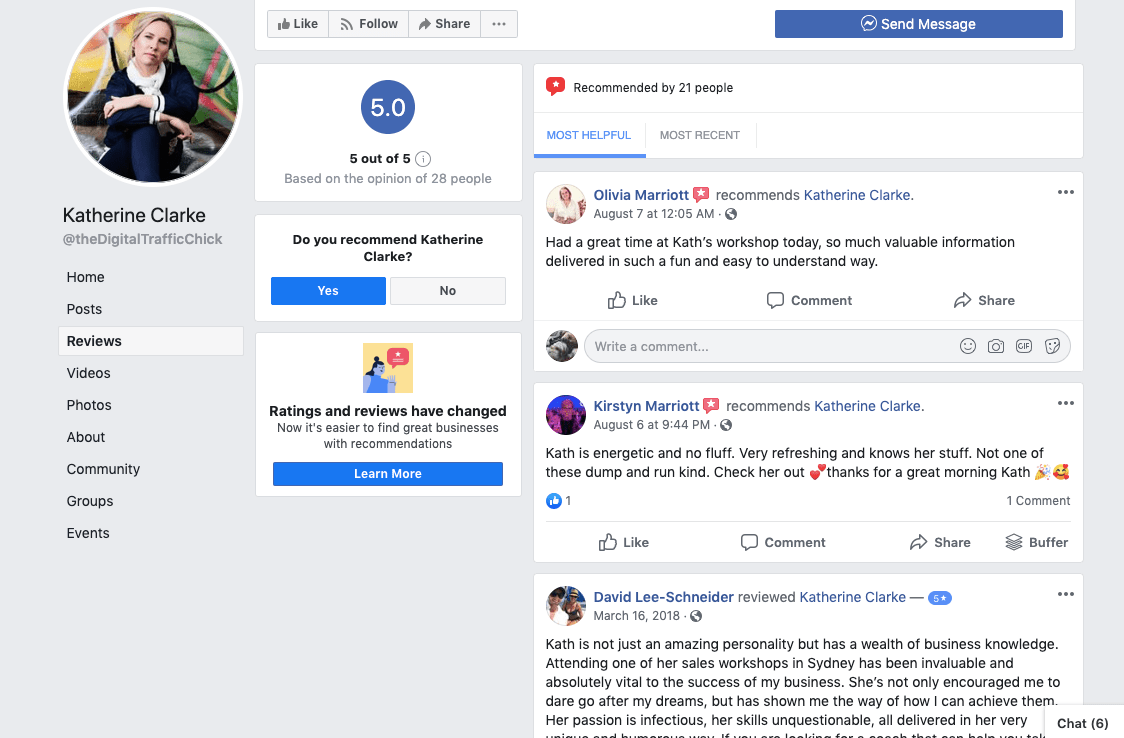 Just don't forget to ask! Your clients might not even think about leaving a review on Facebook, but it certainly helps increase your brand exposure online and will set you apart from the competition prospective clients may encounter on Facebook.
Trick #4: Use video regularly
One of the beautiful things about using a platform like Facebook is that it's very video-friendly.
You can prerecord your thoughts, upload to Facebook and schedule your video to go out at a consistent time each week. Or, if you want to engage with your followers and give them a chance to share their own comments or stories in real time, you can take your videos live.
Either way, you end up with a nice repository of videos in the end, just like One of Many: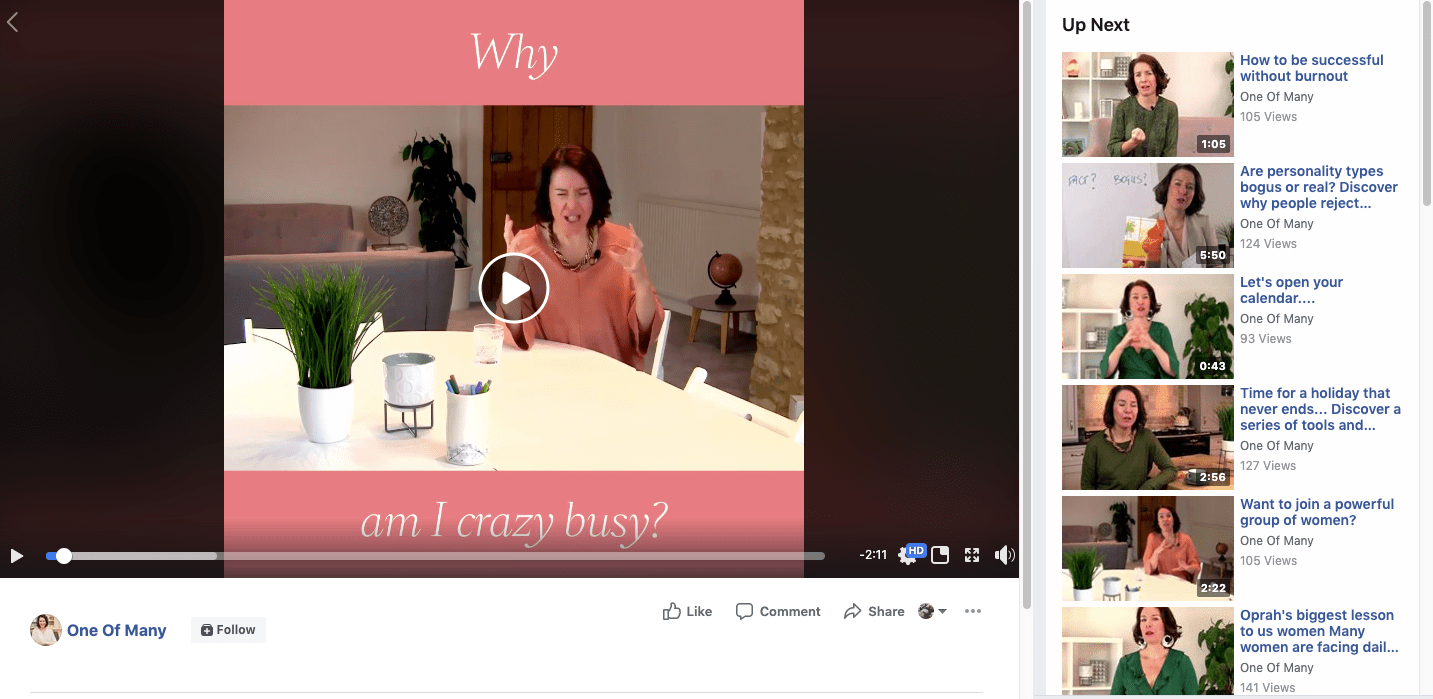 For those of you who enjoy actually talking through your stories and messages instead of trying to write it out on a page, this would be perfect for you.
Instagram
Trick #5: Use the Stories feature like a pro
It's tempting to use Instagram's Stories feature as a way to share silly stories or memes that will fade away after 24 hours. But did you know that you can not only save your Stories, you can organise them in folders for all to see?
This is a really great feature for coaches wanting to quickly and permanently document their thoughts. The Run Beyond Project shows up again on this list for their awesome use of Instagram Story-telling: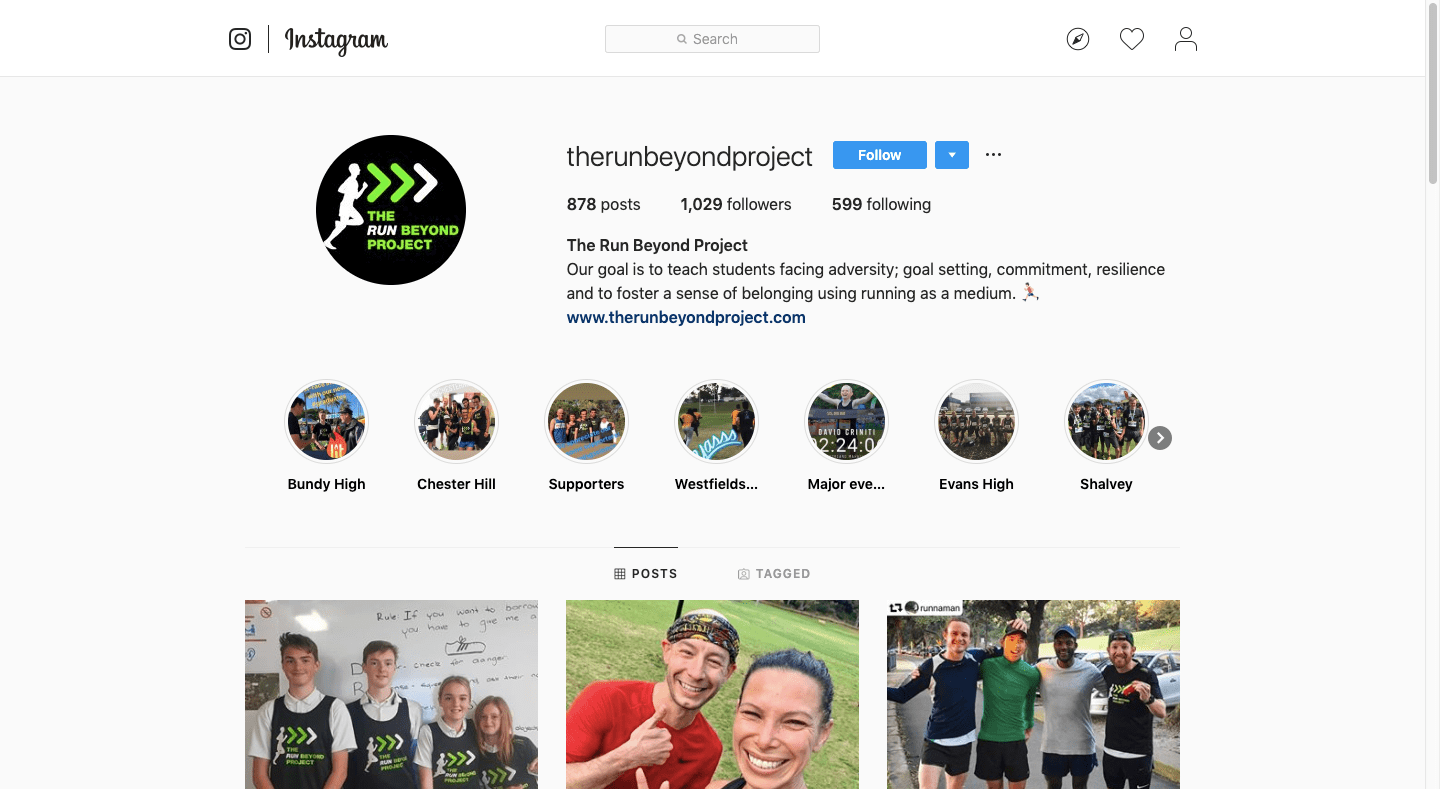 See those well-labeled bubbles below their URL? Those are their saved stories. Here's an example of what you'll find in them: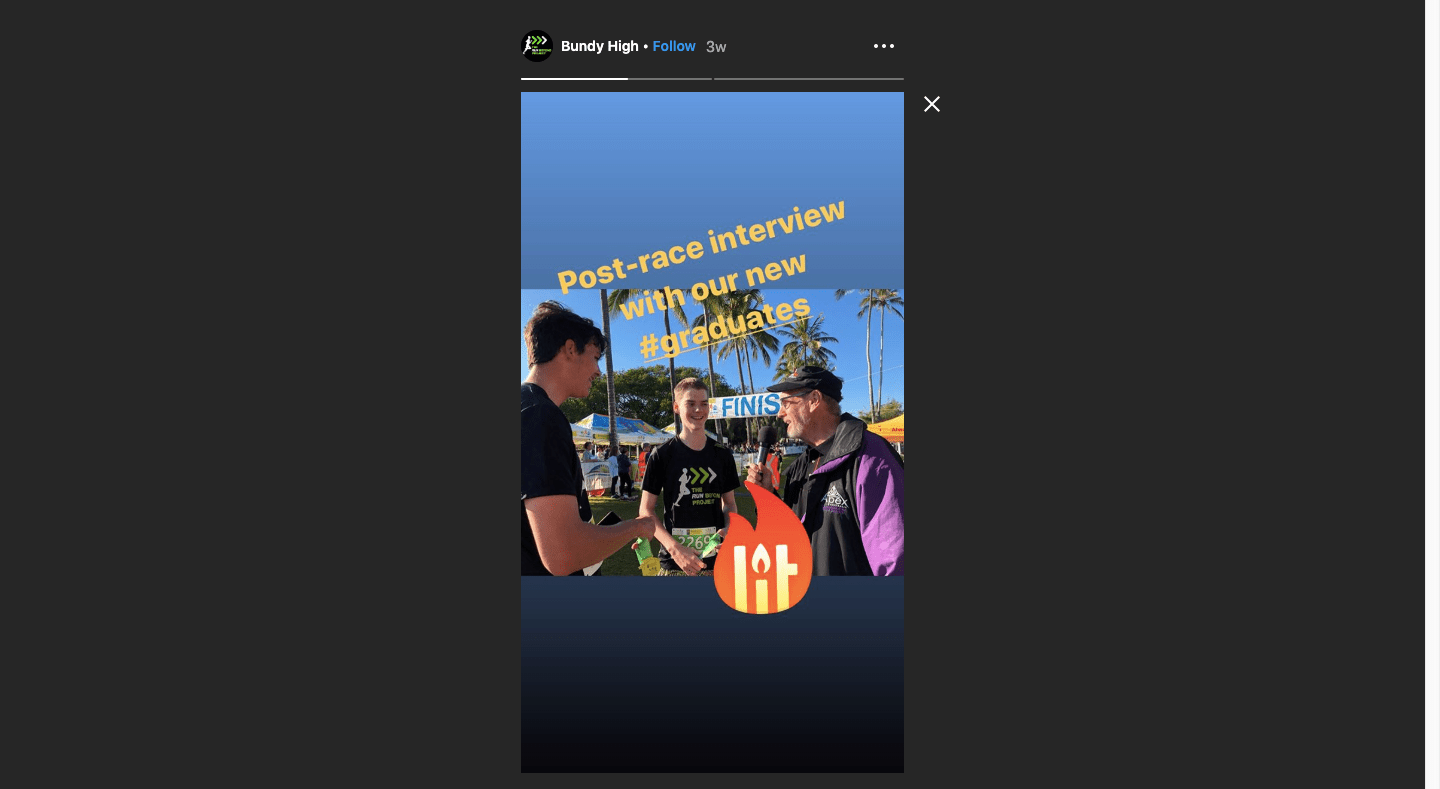 There's no reason to let your high-quality content go to waste or get lost in your feed. Share it to your temporary Stories and cut to the front of the line. Then, save them to your permanent and well-organised Stories buckets so others can reap the benefits of what you shared in the past.
Trick #6: Consistently filter or frame your images
When someone shows up to your business's Instagram page, you want it to have as polished a look as your website has. That means using high-resolution photos, high-quality visuals and an attractive colour palette.
You don't have much control over the design of your Instagram page. However, Instagram provides users with filters they can use to jazz up their photos and videos. Find one you like and that resonates well with the vibe you want to put off, and stick to it.
Or you can do as Lara Khalaf has done and find your own empowering colour palette to build your posts around: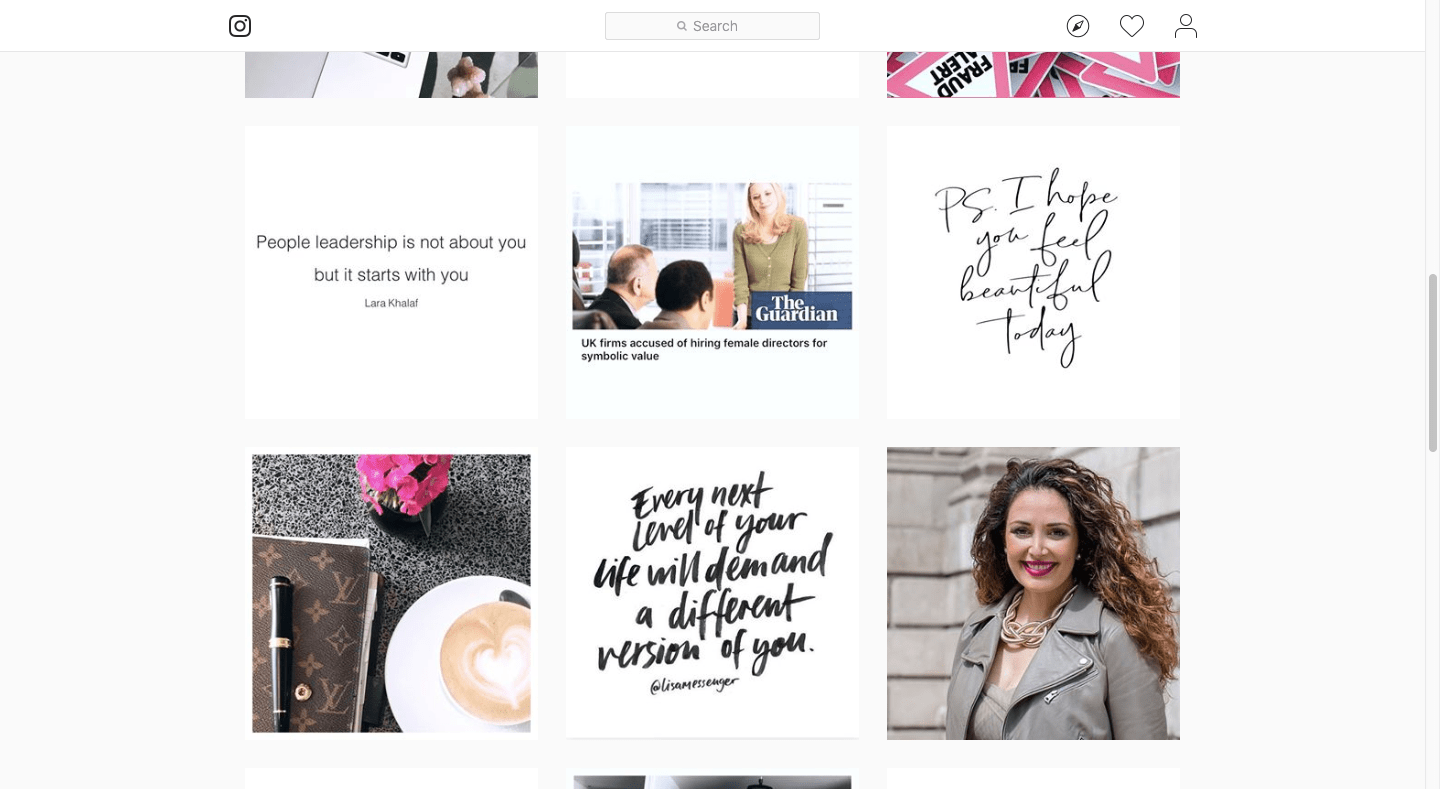 Although this isn't an explicit form of social media storytelling, the kinds of colours you use here will say a lot even if you don't match many words to them.
Twitter
Trick #7: Be generous with content
One of the tricky things about being a coach is having to decide how much you give away to prospects and followers for free. While you don't want to conduct full coaching sessions without reimbursement, there's no reason to be stingy with sharing content that chips away at the bigger lessons you provide.
Here's why I say that: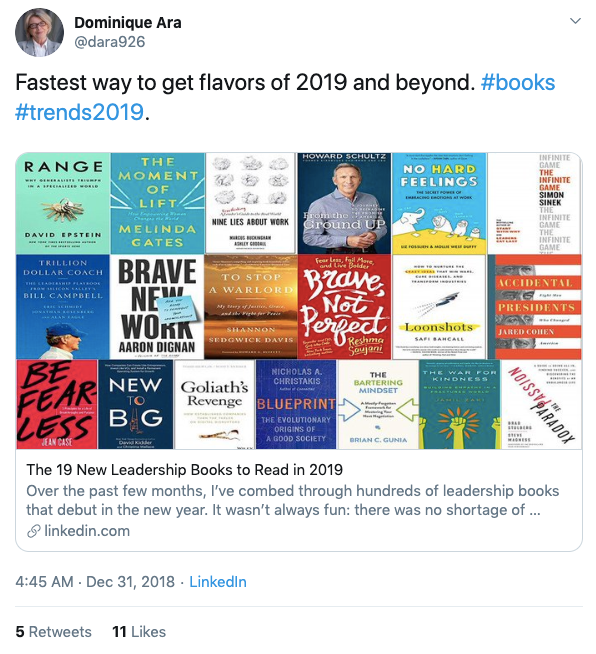 This is a post from transformational leader Dominique Ara. Do you think that by sharing this list of leadership books that it will end up costing her clients? Probably the opposite, to be honest.
Twitter is a great place to empower prospective clients — especially the motivated ones you want to work with — to take the first steps on their own. Once they realise there's a lot more to it, they'll remember that you were the one who gave them the useful tools to start with and reach out for more help.
Trick #8: Pin a poignant post to the top of your feed Twitter gives users the option to pin posts to the top of their feed. This allows you to carefully think about what you want that first impression to be when someone lands on your Twitter page.
Do you want to tell your own story? Do you want to tell someone else's? Do you want to paint a picture of what it's like to work with you?
Figure out what will do the most good for you here, create the post and then pin it to the top. For instance, this is what The Hunger Project has chosen to share: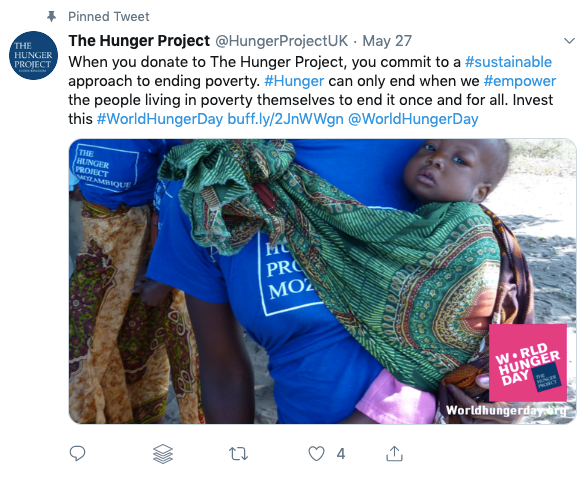 This isn't a story about where The Hunger Project came from or a particular person the organisation has helped. This is a call to arms that invites people from around the world to join them on this mission.
Trick #9: Loop others into the story
One of the best things about Twitter is that you can say so little and yet still get a huge message across. Even better, if you use Twitter's system of handles and hashtags, you can maximise your reach and ensure that your messages get in front of the kinds of people who want to engage with you.
For instance, this is something I recently shared: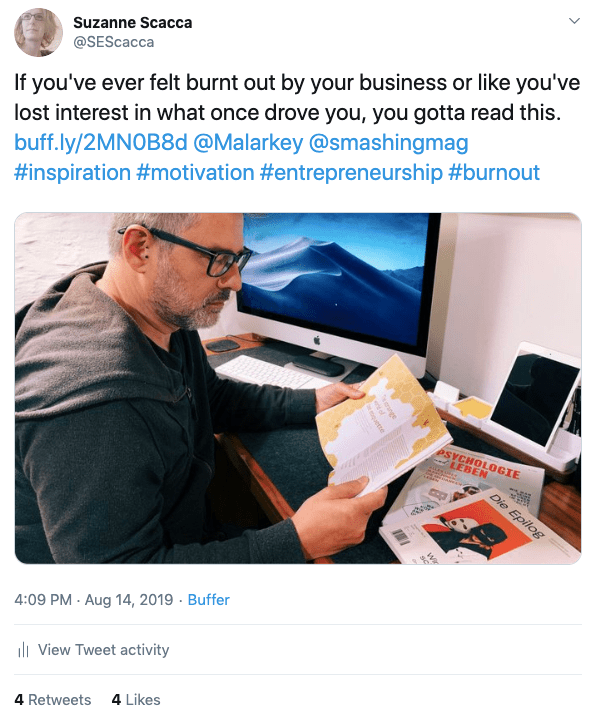 I could've just pasted the title of the article into the tweet and sent it out like that. But the article is a really good read and I didn't want it to get lost in the shuffle.
So, here's what I did:
I wrote a personal message since this is something I have first-hand experience with and know that many of my peers do, too.
I included hashtags like #burnout and #motivation to help people searching for those topics more easily find the post.
I tagged the publication the article appeared in as well as the author to say "thanks" and give them the option to spread the word.
I chose an attractive image from the post to help it get noticed in the sea of image-less posts in people's feeds.
In return, this post was seen by 2,407 users and received 166 engagements (likes, comments, clicks, and re-tweets):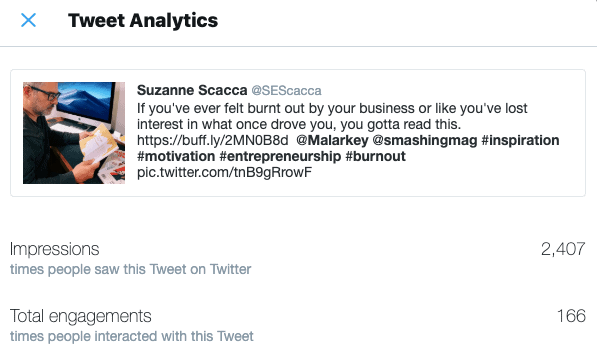 If you want to make sure your micro-stories are heard on Twitter, give your posts a little more love.
Wrap-Up
You have an incredible story to tell, and it would be a shame to hide it away on the pages of your website or relegate it solely to your discovery calls.
There's a lot you can do with social media storytelling. But, first, you need to figure out why you're there so you can figure out how best to convey those micro-stories on social media.
If you need guidance on how to share your story on social media and create deeper connections with your followers, reach out to The Good Alliance today.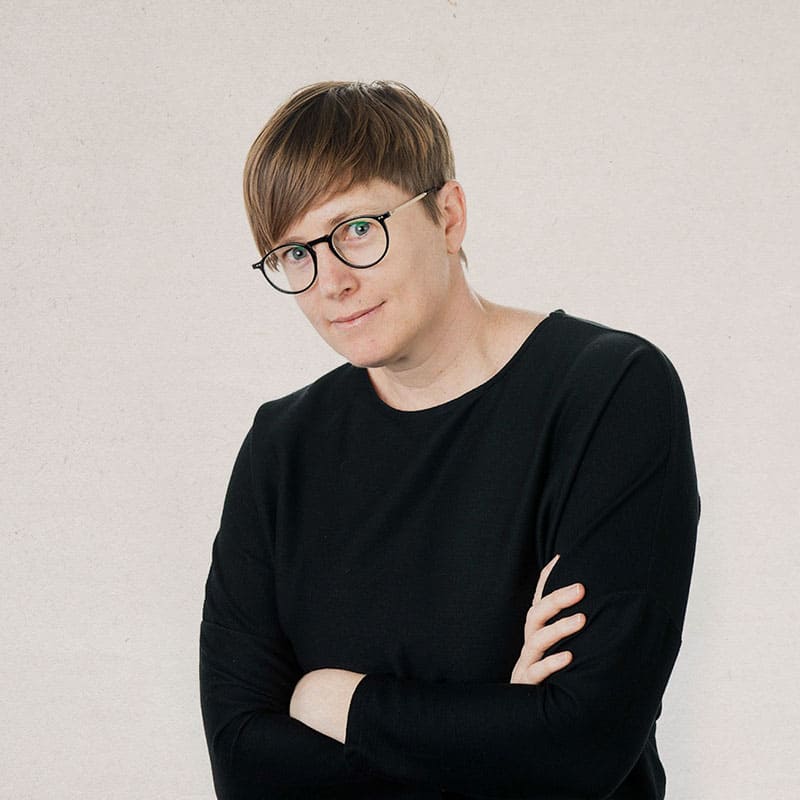 Cat Townsend
Founder of the Good Alliance
After more than a decade spent helping big brands sell more stuff, to people that didn't need it; Cat set a simple intention: To do more work that made a positive difference in the world. So The Good Alliance was born…