You've probably been told or read a thousand times how blogging is good for your business. And we're not gonna lie, it's a fantastic way to connect with your audience.
However, it's only one of several ways to drive traffic to your website, and we know it's not for everyone, which is why we're going to cover what the benefits are — but also the blogging alternatives for those who know writing just isn't their thing.
What are the benefits of blogging?
A regularly updated blog works because it's the ideal way to answer the problems your customers are facing. 
They:
Search for an answer
Find your blog post, which solves their problem
This builds trust in your business, meaning they're likely to come back, read more of what you have to say and become a customer.
Cool, right?
They're so great, it's surprising so many businesses choose not to blog. And if you're one of them, that's okay, there might be many reasons for that, like:
You don't have time
You mean to but keep putting it off
You find it difficult to write engaging content
You have trouble with your spelling or grammar and feel self-conscious about looking unprofessional
Your ideal client isn't the type to sit down and read a blog
You'd rather binge-watch The Marvellous Mrs Maisel on Amazon Prime than write (honestly, get on that, it's sooo good)
Or, perhaps you have a blog, but it's either empty or hasn't been updated since April 2017. And this is just as bad as not having a blog because it makes your website look outdated or you've gone out of business — disaster!
Blogging, however, doesn't have to be arduous and you don't have to churn out post after post, week after week. 
All you need to do is make blogging work for you.
How do you do that?
By concentrating on one or two pieces of helpful, quality content.
Quality over quantity wins through every time, and by doing so, you'll reap the benefits of a regularly updated blog, which includes:
Driving traffic to your website
Improving your SEO
Developing relationships with your customers
Building trust in your business
Making you a voice of authority in your industry
Showing there's a human-being running your business, not a faceless robot
However, you probably know this already — what you really want to know about is the alternatives, right?
What are the alternatives to blogging?
Having a blog isn't essential. 
Which is why we've compiled a list of five blogging alternatives that really work:
1. Videos
Why try to convey your voice in writing when you can get your message out to your customers directly through the power of video?
If you've got a million things to say, a video is a personal way to drive traffic to your website — and there are loads of places to get your content seen, including:
YouTube
Facebook Video
Facebook Live
Snapchat
Instagram Stories
Instagram Live
LinkedIn Video
Or you could post videos on your website as a vlog, in place of your usual blog.
Videos are incredibly versatile too. 
Sure, you can create one telling your customers how you can solve their problems, but you can use them to create demos and tutorials to show your audience real, actionable proof how good your products or services are.
In fact, in a 2020 study by Wyzowl, 89% of marketers questioned said video gave them a good ROI.
YouTube is also the second most visited search engine in the world, so the positive impact it can have on your business is enormous.
2. Podcasts
Hate writing and not keen on talking to the camera?
Then podcasts might be the thing for you.
Podcasts are huge right now, and they're the perfect opportunity for you to talk about your business, build your brand and connect with your audience.
You can invite fellow business owners onto your podcast, run competitions and make them as interactive as you want — just think of them as your own radio programme.
Give your audience what they want to hear, make them irresistible, and before long your listener numbers could skyrocket!
3. Images
Don't think it's possible to sell your business using killer images and photography?
Think again.
Humans love visuals more than words because, to coin a phrase, it's easier on the eye.
Sure, you might stop to read a sign, but you'll gaze longer at a beautiful sunset — and using images online, especially on social media, has the same result. Pick the perfect image, and your audience will click through to your web page, excited to see what else you have to offer.
4. Infographics
Okay, infographics do include having to write, but if you're an arty type, sharing information more creatively may be more appealing.
Humans remember 80% of what they see but only 20% of what they read, which makes infographics more likely to be seen, read and remembered than a blog post — and they're more likely to be shared across social media too.
Just imagine one of your awesome infographics driving traffic to your site years after it was created?
That's how powerful they are.
If infographics sound more like your cup of tea, check out Canva for some fantastic professional templates.
5. Networking
Urgh — you mean you've got to go stand in the back room of a café that smells of bacon and sausages for two hours?
Actually, that sounds quite nice.
Well, yes, and no.
Networking in person gets you in front of other business owners. You can sell your services, hand them a business card and set up a meeting if you can get some to bite.
However, if face to face networking fills you with dread, there's also online networking, Twitter is especially useful for this.
You can use dedicated hashtags on your tweets. Or you can join in local and industry-specific hours set up by entrepreneurs using selected hashtags designed to help you network with your peers and target audience.
Do what's right for your business.
Whether you create videos, start a podcast or get all artistic with infographics, as long as you're adding value to your business and enticing customers to send you a query then it can't be wrong.
But if you just don't have time or the skill, why not try our Copywriting service?
You tell us what you need. 
We write it.
You reap the rewards.
Win-win!
If your business is booming after posting videos, podcasts, image or infographics or you've got a blogging alternative we haven't listed, why not share your success story in the comments below.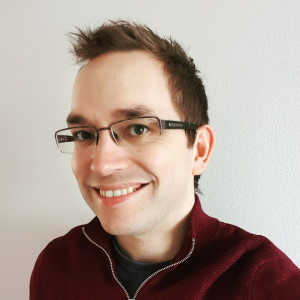 Matthew Drzymala
Copywriter & author
Matt is a freelance copywriter, specialising in whatever you throw at him. He's also an author, runs writing workshops in schools and has hyper-mobility in his thumbs.