If you ask around on Google whether it's best to have a business website or a Facebook business page, you may find that some people are staunch supporters of Facebook pages over websites.
"Why build a website when you can create a Facebook page for free? Plus, everyone's already on Facebook."
There are others who contend that nothing beats a website.
"Facebook is for sharing photos and connecting with old classmates. A website makes people take your business more seriously."
So, which is it?
Truth be told, there are pros and cons with both options. This guide will help you figure out what those are so you can determine the best solution for your business.
The pros and cons of setting up a Facebook business page
Facebook for Business promises to make marketing a breeze when it says that "Everyone is a marketer with the right toolkit." But is this implication that Facebook is the "right toolkit" accurate?
Here is what you need to know:
The pros of having a Facebook page
Easy Setup – It takes no more than a couple minutes to get started with a Facebook business page, so long as you have a personal Facebook account.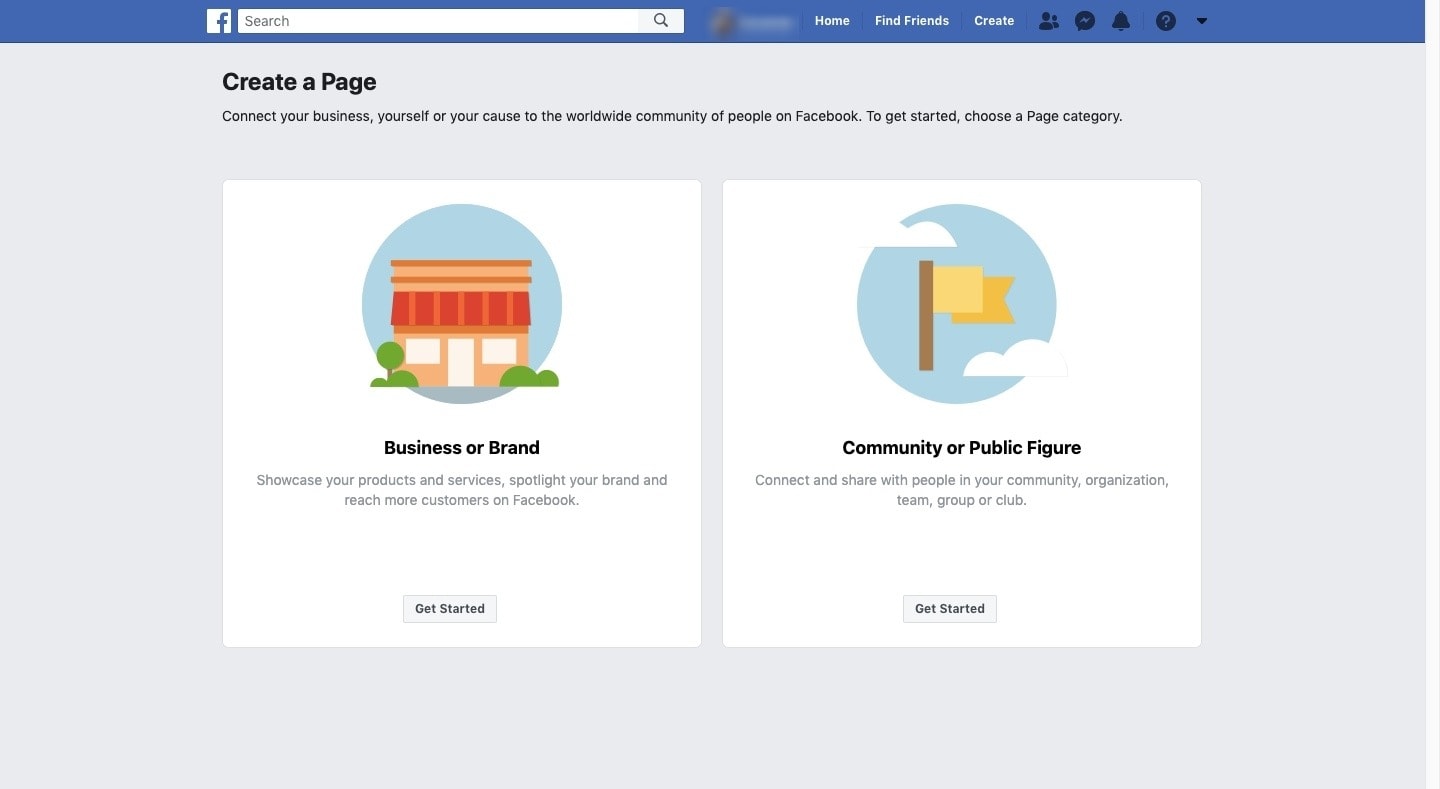 Reach – There are over 1.5 billion people who use Facebook daily. As you can imagine, that spells a lot of potential for a new business owner hoping to get in front of a large audience.
Transparency – It's up to you to decide how much or how little you want to share with your Facebook audience.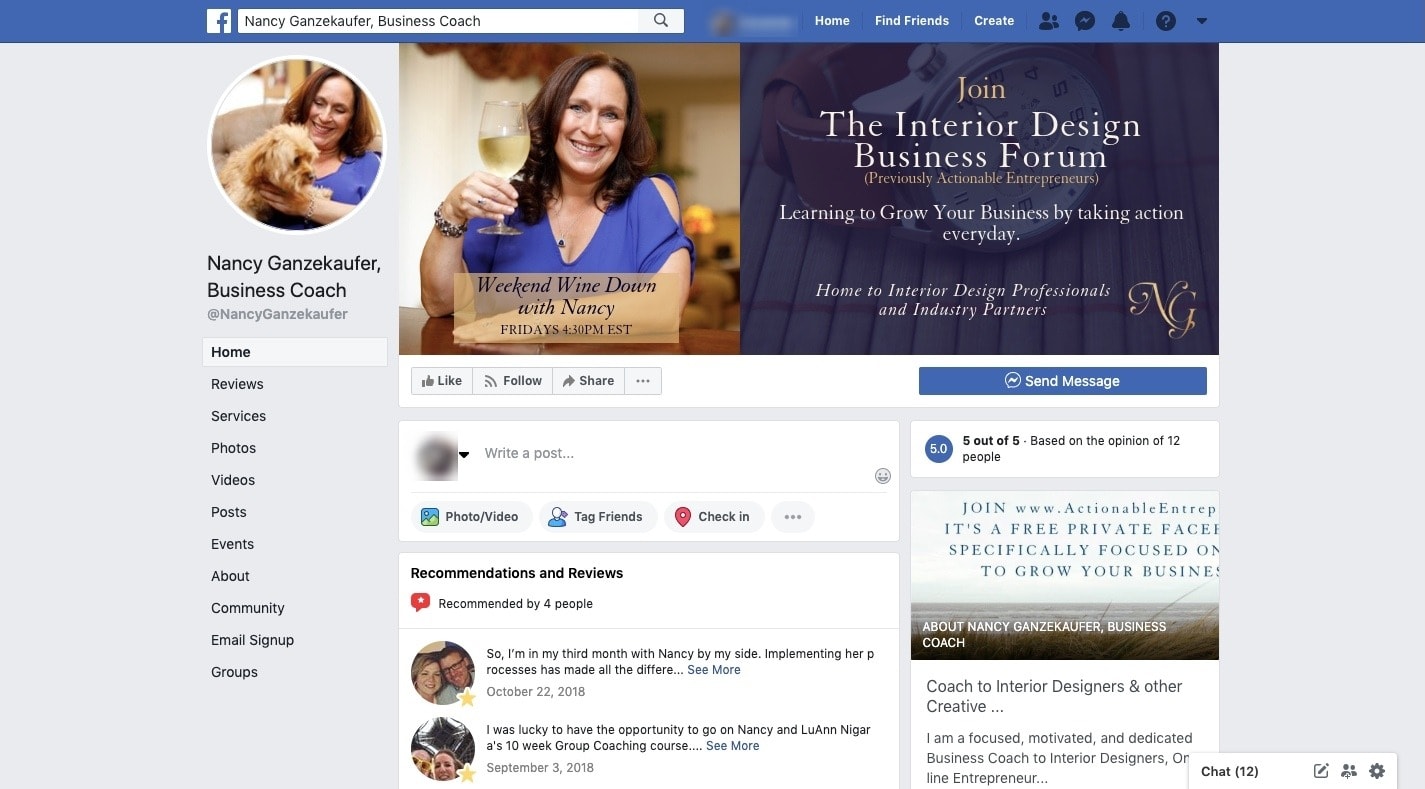 It's clear that Nancy Ganzekaufer has taken the time to fill in as much as she can so that Facebook could serve as a standalone marketing and sales channel if it had to.
Personal Feel – There's something about Facebook that makes it feel more personal than a social media platform like Twitter with its short character limits or LinkedIn with its focus on professional networking. A Facebook page allows you to put both your professional and personal face out there for prospects and clients to connect with.
Community – Having a Facebook page enables you to create a "group" or community around it. Take a look at Dana Malstaff: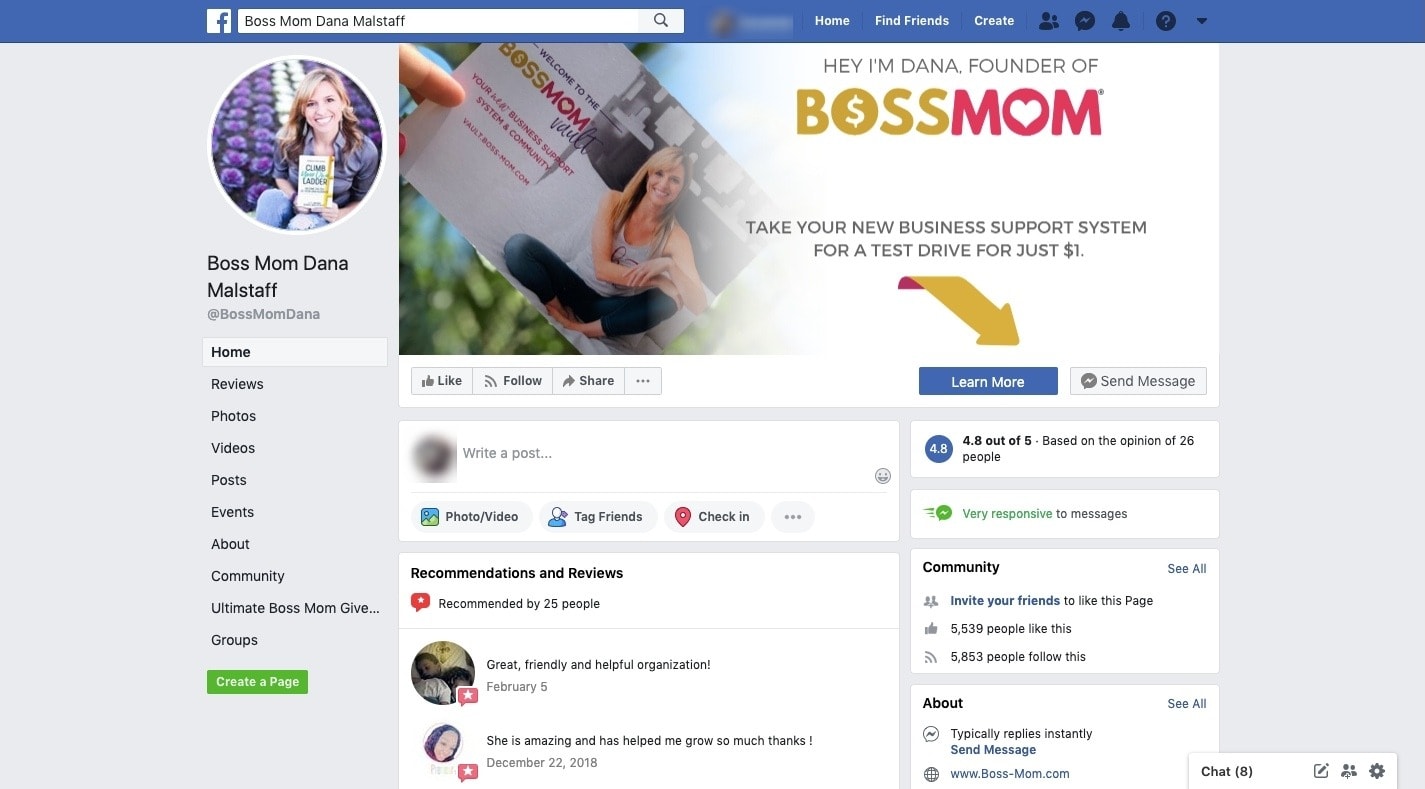 Although she is branded as the "Boss Mom", she has a group for Boss-Moms which is an offshoot of her main personal brand.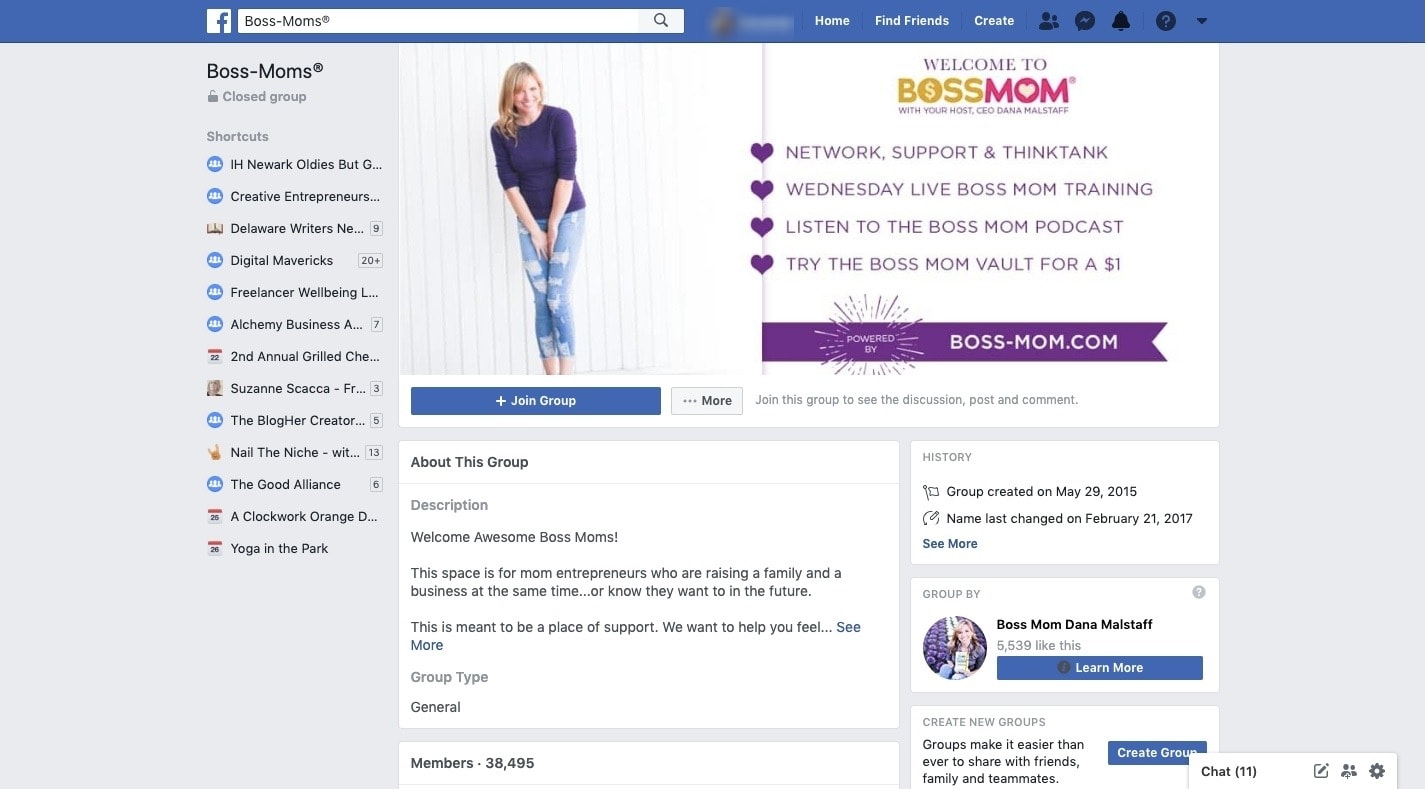 Leverage the Facebook community trend to keep in touch with clients, get in front of prospects and bring everyone together in one place to share their stories and journeys.
Video Is King – Video is a big part of what you do and Facebook is one of the best platforms to make use of it. You can share pre-recorded videos, host a live video session or run a webinar through your page.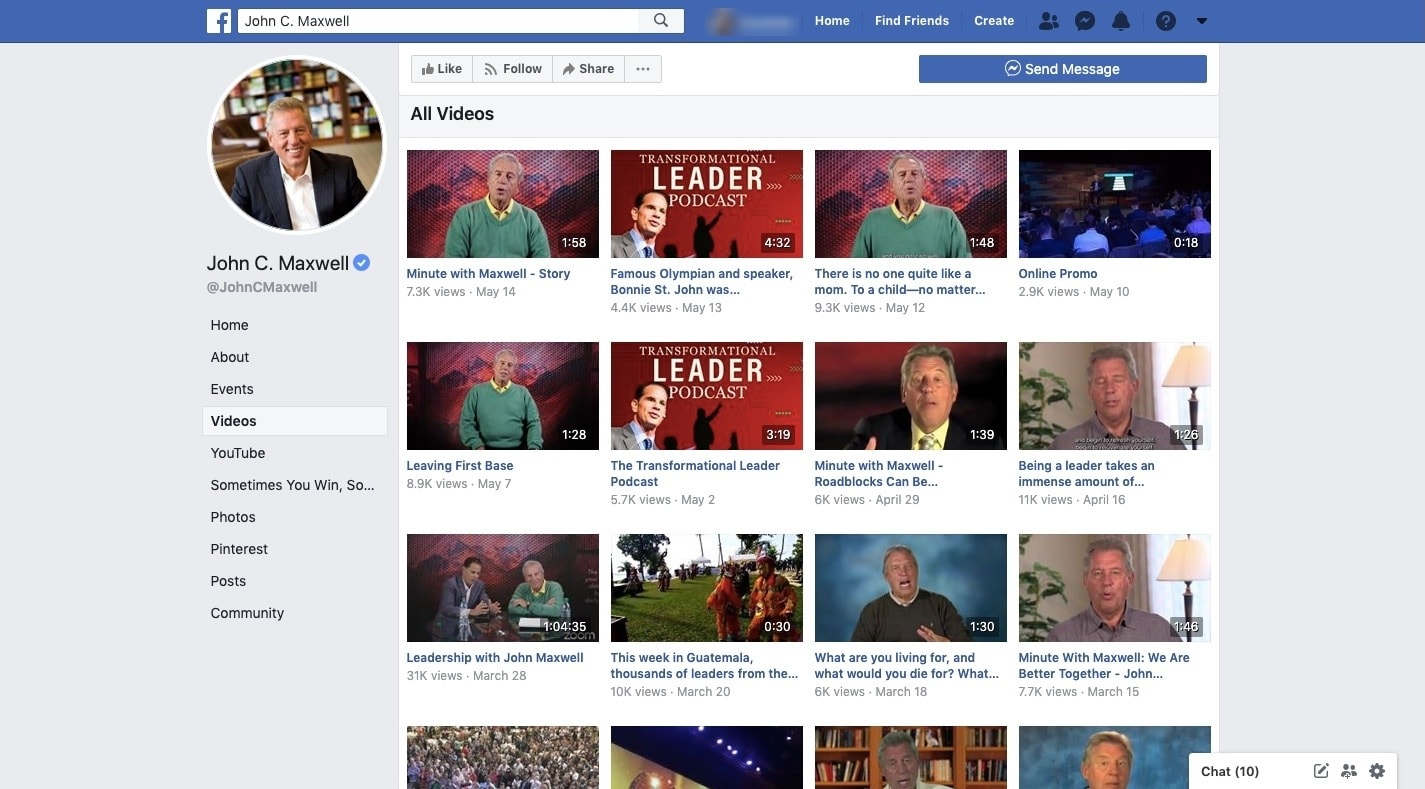 Look at John C. Maxwell's page to see how well video can do when it's on Facebook.
Chat – Facebook Messenger enables you to chat with visitors of your page in real-time or to power a chatbot to connect with them in your absence. Kim Trathen, for instance, greets page visitors with this helpful chat: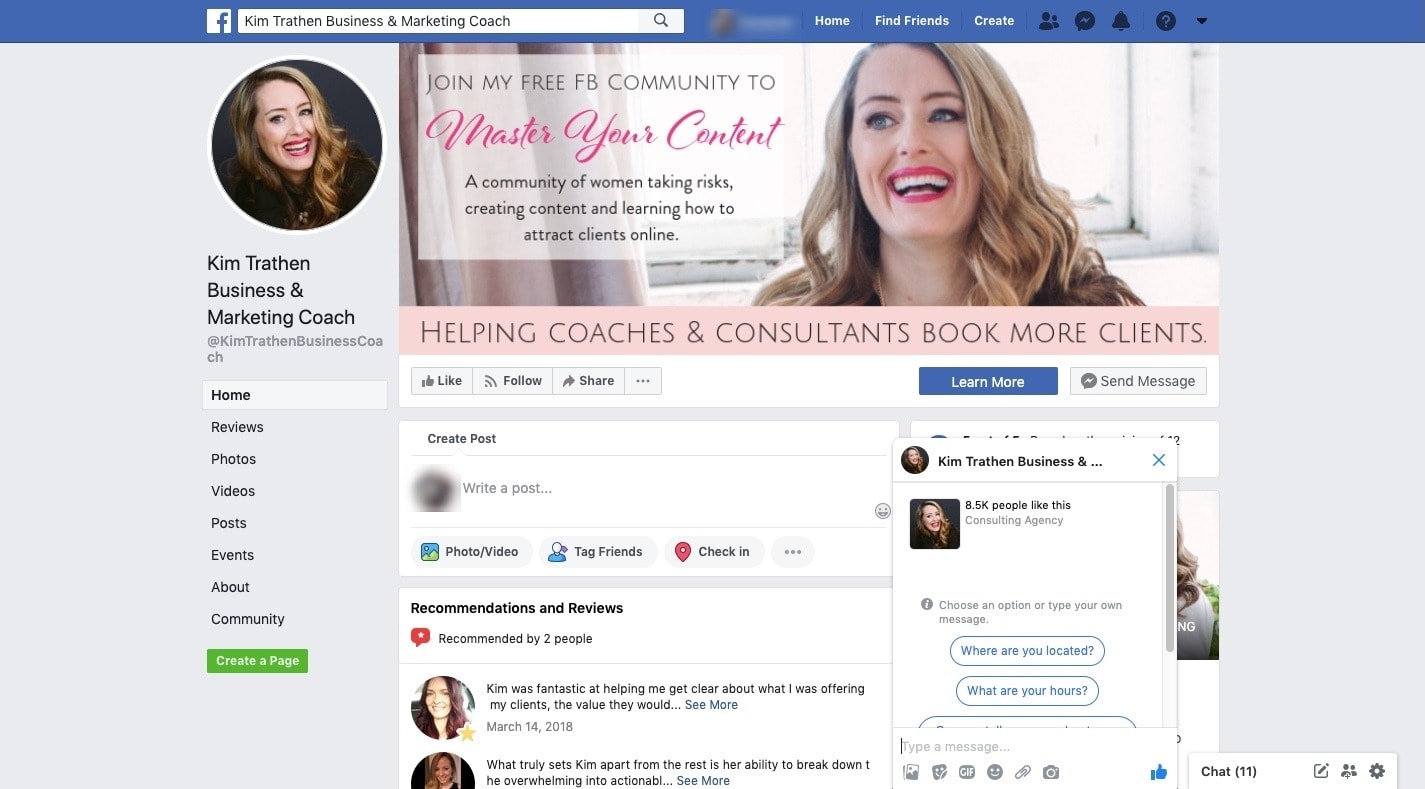 Social Proof – A survey from ReviewTrackers in 2018 revealed that about 23% of consumers check Facebook reviews before visiting or contacting a business: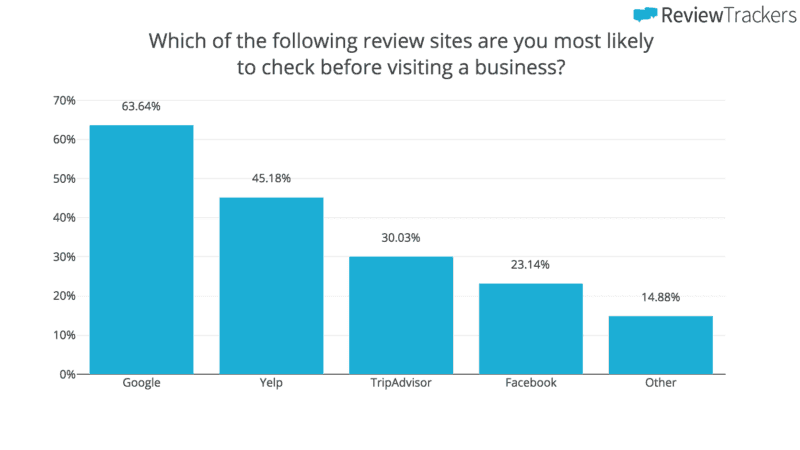 What's more, the reviews they find there are generally more positive than they'd find anywhere else: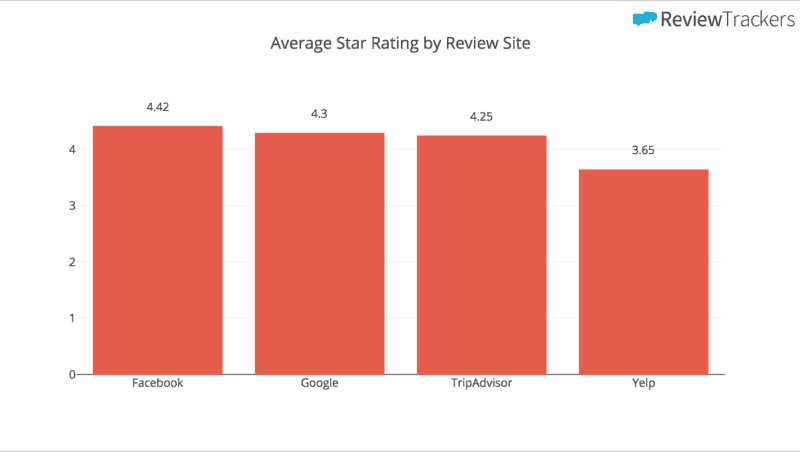 If you want to convince someone to trust you with their life, happiness or success, you'd do well to include social proof like client ratings, reviews and likes.
The cons of having a Facebook page
Lack of control – You can upload graphics to your page and fill in details about your business, but the rest of the design is Facebook's to own and control.
Distractions – Your page may be your own, but it's still surrounded by a flood of distractions from other people, pages and groups.
Pay to play – If you have a Facebook business page and you want it to do well (i.e. lots of followers, lots of engagement), you have to "pay" for it. You can do this by spending countless hours every day building awareness of your brand or by spending a good deal of money on ads.
Just be careful. You don't need to be a technical whiz to create or manage ads, but you do need to understand how to set up audiences, schedule campaigns and use the data to make sure you don't waste your money.
No content marketing – If you intend on producing content for your audience, you'll have to find another platform to do it on.
Limited contact – Facebook is like other social media platforms in that it keeps communications somewhat rudimentary — GIFs, memes, brief messages, even Messenger has character limitations. If you want to have real conversations with your audience, Facebook doesn't provide the right kinds of contact channels to do so.
Privacy breaches – After the Cambridge Analytica scandal, Facebook's user base started to drop off. With security and privacy an ongoing issue, you'll have to be very careful about the kind of information you trade through your page.
The pros and cons of setting up a business website
It seems like everyone has a business website these days, so much so that it would actually hurt you not to have one… right?
Here is what you need to know:
The pros of having a website
Control – It doesn't matter which site builder you use to build your coaching website. It is yours to own and control — the design, the content, the call-to-action.
Identity – There's something about owning your own domain name and branding an entire website to match it that does wonders for establishing authority. It also ensures that people won't get distracted from the blue Facebook surroundings or competing pages and people.
Shannon Wilkinson's website shows you how easy it is to create a strong brand and personal identity with a business website: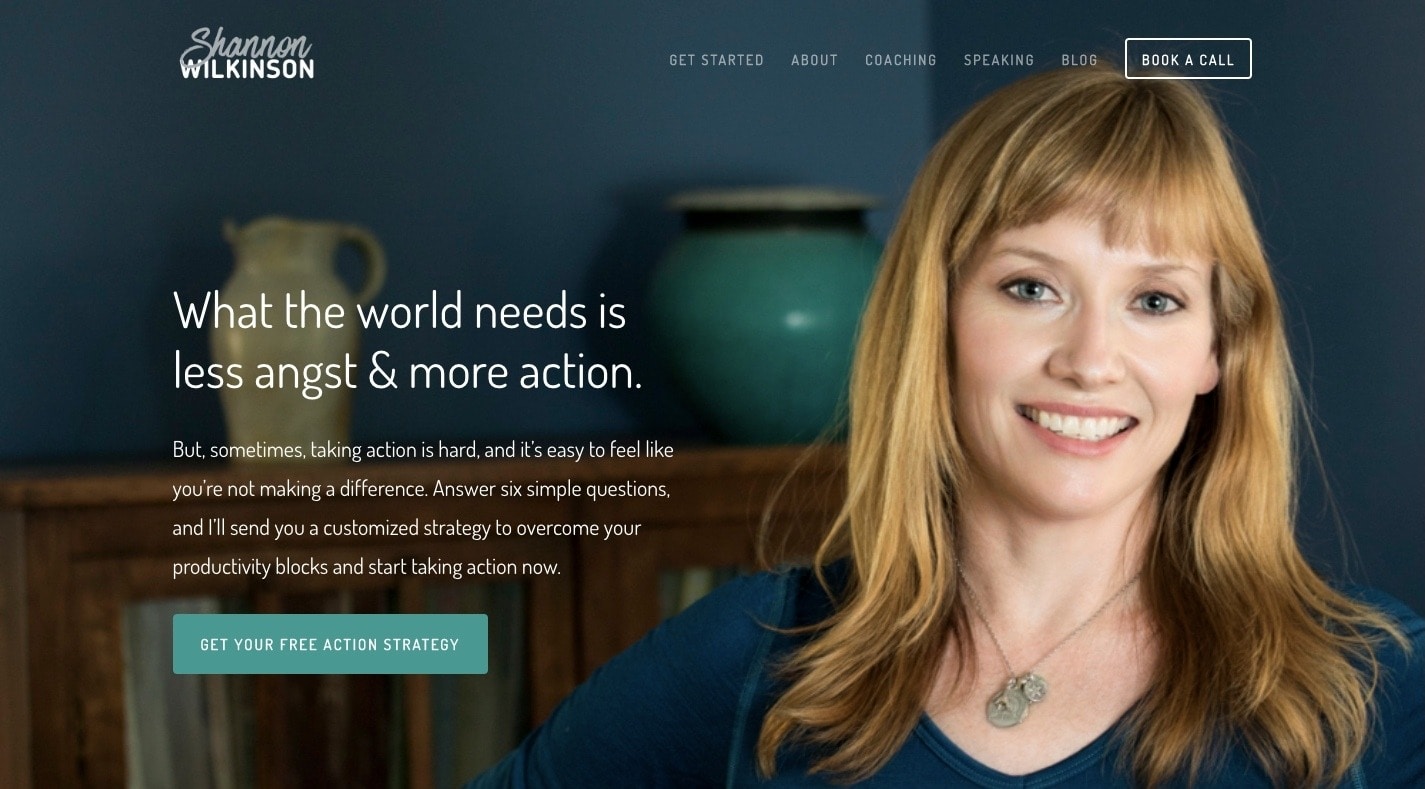 Contact channels – You get to decide how visitors contact you through a website:
Phone
Email
Contact form
Support or customer portal
Scheduling tool
Live chat or chatbot
Links to social media
Here's an example of a scheduling form from the Zest for Balance website: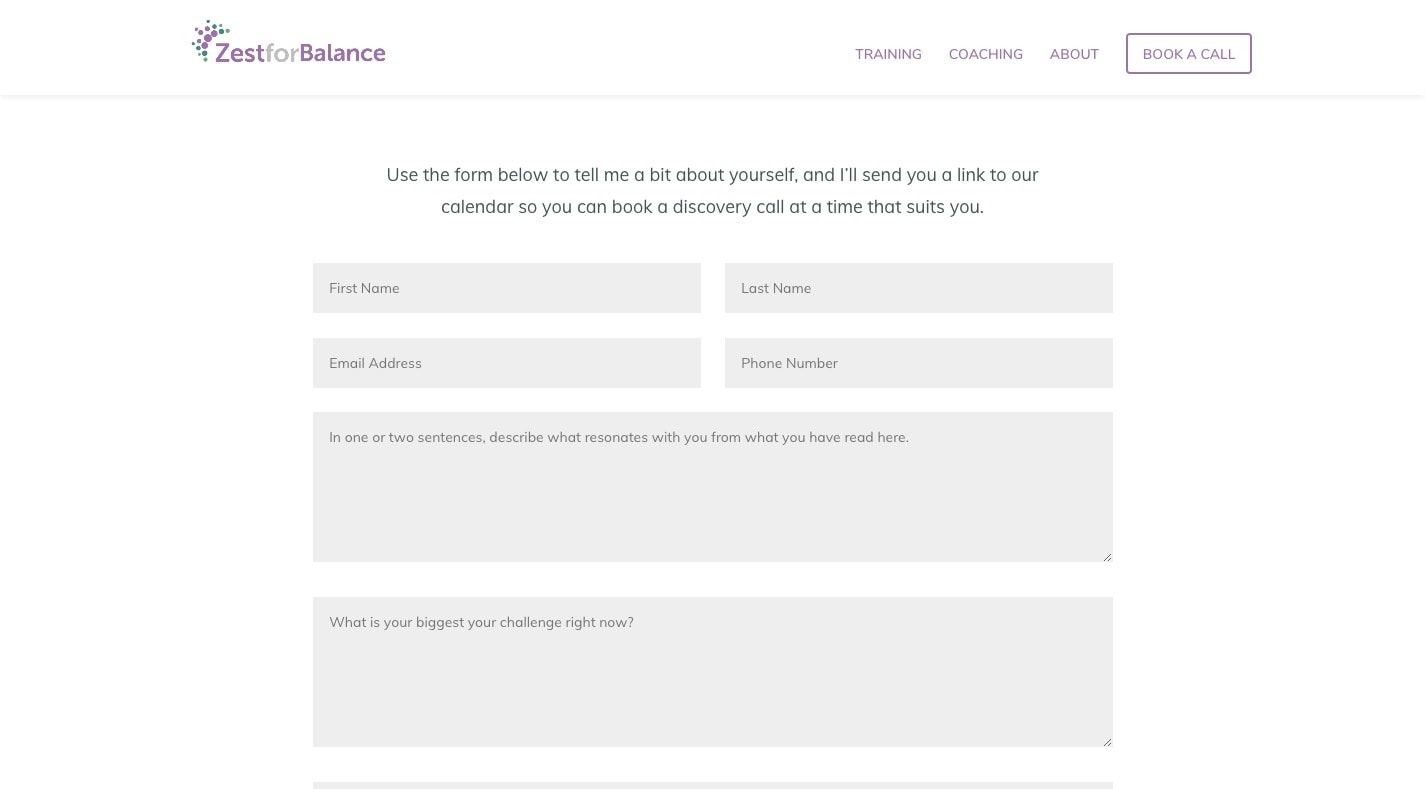 Content marketing – A website typically is not some shallow or superficial piece of collateral in your marketing strategy. It's where visitors learn more about your services, engage with you and get access to a bunch of content — content that aids them in their own DIY pursuits while also giving them something valuable they can then go and share with others.
Lead generation – A website allows you to gather leads from a variety of places:
Contact forms
Blog subscriber forms
Free consultation or session signups
Lead generation offers
And more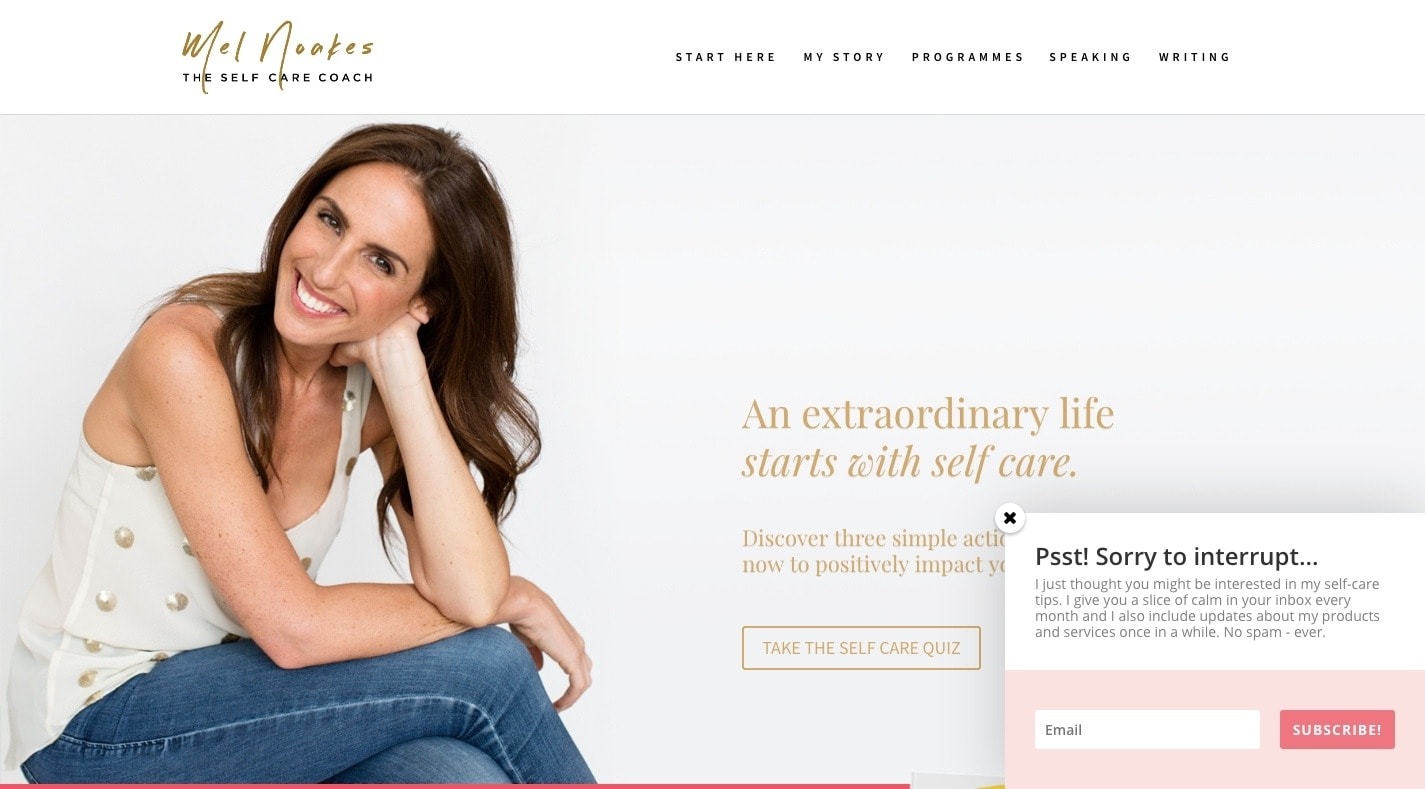 With on-site forms like the one from Mel Noakes, you can take a more strategic approach to fostering leads from interested prospect to happy client.
Sales – A website is the best place to sell your services and digital products as the Online Courses page for Authentically Speaking demonstrates: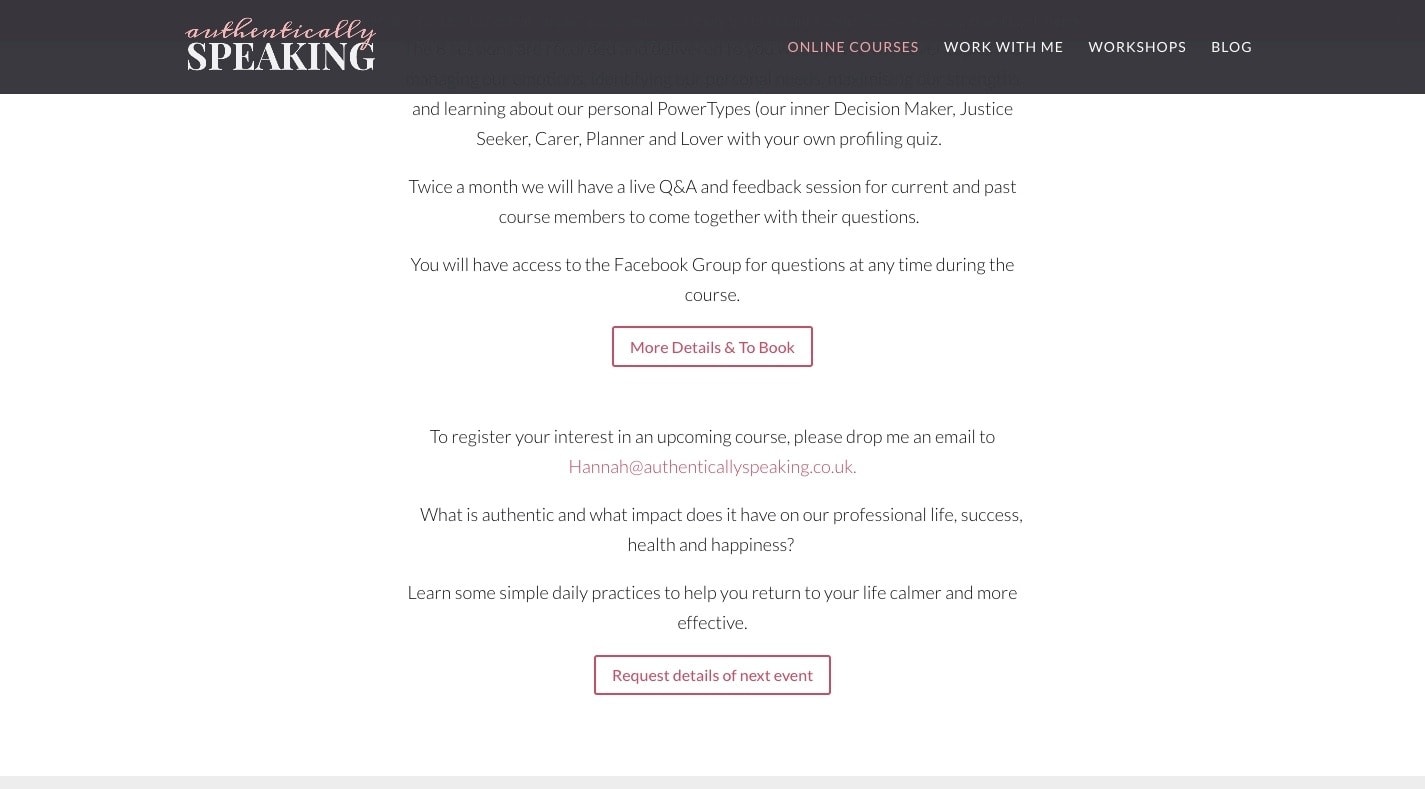 Automation – There shouldn't be too much hand-holding you have to do with a website if it's properly designed and the processes within it automated. For example, if someone fills out a form or schedules an appointment, all you have to do is watch your email inbox for the notification.
You can focus on conducting business in the real world instead of on monitoring visitors in real-time on your site.
SEO – You want your website to rank at the top of search. But it's not just about getting to the top for a few well-chosen keywords. You can utilise:
Organic search
Paid search
Local search
Image or video search
Featured snippets
Google My Business featurettes
The cons of having a website
Ease of Setup – Websites cannot be built in a manner of minutes, no matter what some site builders claim. It takes time to create your branding, to write your content and to build out a high-performance website for a business.
Unfortunately, if you take the wrong shortcut or pay someone inexperienced to do it for you, it could also hurt your business's reputation over the long run.
Cost – Initially, a website is going to cost you a good chunk of change. While that's not a bad thing — since a website is a smart investment for business — it can cut deeply into your bottom line if you're not ready for it.
Strategy – You might be highly skilled in the ways of coaching others to success and happiness, but strategizing the creation of a website and its content? That might not be something that's in your wheelhouse or of much interest to you. Unfortunately, strategy is important for creating a website.
Growth – Because you're mostly relying on SEO to rank your website organically in Google, it could realistically take six months to a year before you start to see real growth in traffic and conversions on your site. PPC, social media and content marketing will expedite that growth, but it comes at a cost of time and money to you.
Technical Maintenance – Because you own a website, it's yours to manage. And it's not just things like page speed or security that need maintaining either. Someone needs to keep your information up-to-date, run new lead gen promos and create content on a regular basis.
Wrap-Up
When it comes to the question "Should I create a business website or a Facebook business page?", it really shouldn't be one or the other. By merging all the good stuff that comes from having a strong social presence on Facebook and by owning your own digital presence with a coaching website, you'll capture much more of your target audience than you would if you choose one over the other.
I do recognise, though, that both are time-consuming ventures. Rather than spend too much time trying to build and manage them all yourself, or compromise by only having one, get in touch with The Good Alliance.
Wouldn't you rather focus on making a difference through your business instead of getting caught up in the minutiae and technologies that come with building an online audience?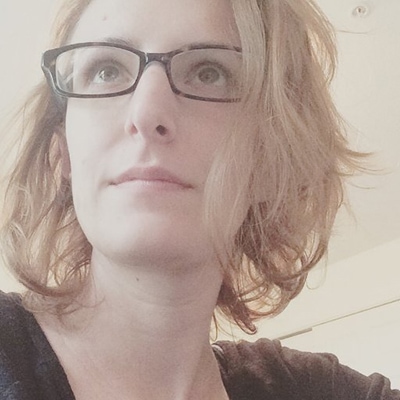 Suzanne Scacca
Content Writer
Suzanne Scacca is a freelance writer, specialising in web design, marketing, and technology. She also teaches classes at Skillshare and is a sucker for movies, food, and dogs.